Two-factor authentication
In addition to access via a username and password, Pando Panel offers two-factor authentication (also known as two-step verification).
Through user management, you can make two-factor authentication mandatory for new and existing accounts:

Is two-factor authentication enabled for your own account? If so, you need to activate it once by scanning a QR code: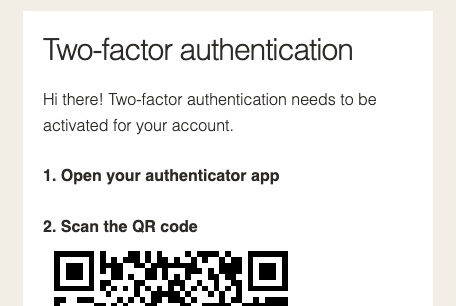 After activating your account, you need to enter a numerical code in addition to a password when you log in.
Note: we do not send text messages and therefore do not ask for a mobile phone number. Using an authenticator app with support for QR codes is currently the only method we support. Google Authenticator and Authy are well-known examples, but there are more, so find out which are common within your organisation.
Restoring two-factor authentication
You may inadvertently lose the two-factor authentication codes, which makes it impossible for you to log in. If this is the case, please contact someone in your organisation with access to the Users section of Pando Panel.
Ask them to disable two-factor authentication for your user account first and then enable it again immediately. You will then be given another opportunity to activate two-factor authentication with the process described above.
If this does not work, please contact Pandosearch support and we will help you find out what is wrong.